Brass Bolts Brass Hexagonal Screws Brass Bolt Nuts Brass Bolts Brass Anchor bolts DIN 933 Brass hex bolts set screws
BRASS NUTS SCREWS BOLTS HEX NUTS LOCK NUTS THREADED FASTENERS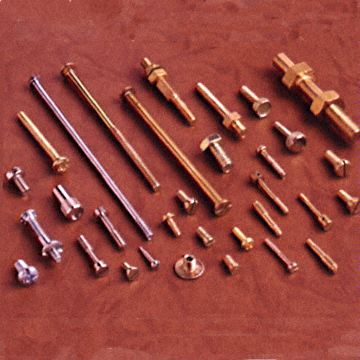 We are one of the largest producers of Brass Hex Bolts DIN 933 hex set screws and anchor bolts from our factory in Jamnagar India.
Brass Bronze Set Screws Brass Anchor bolts
Brass DIn 933 Hex head bolts Hex set screws
Brass Pool cover anchors (used with stainless steel - S.S 304 316 A2 A4 . springs )
Brass machine screws pan head raised CSK h
Brass Socket head Bolts Allen bolts
Brass Copper Bronze Gun metal
Hex bolts set screws DIN 933
Brass Copper SS bolts threaded rods bars
Brass grub screws Cap screws Bolts
Brass CSK Bolts
Brass Dome nuts Acorn / Cap nuts Brass panel nuts
Brass Chicago File screws binding screws self sealing security tamperproof screws
Brass Nyloc nuts Moulding nuts for plastic PVC Nylon injection mouldings
Microscopic tiny very small screws like 1mm 1.5mm 1.6mm 2mm 14 BA 16BA also possible
Carriage bolts shoulder type square lag hex flanged bolts
Thumb screws wing screw lock screw
Brass stand offs couplers pillars inserts clearance spacers
Washers headed SEMS screws socket screws stud
Brass Copper Bronze Hex Full Nuts
and lock nuts DIN 934 also Square nuts
Brass Copper Studs allthreads studding stud

Threads: All screw threads like BSW BSF BSP UNC UNF BA ISO Metric MM millimeter UNS NS available.( Roll threaded and cut threaded)

Sizes: OBA 2BA 3BA 4BA 6BA 8BA 10BA 12 BA 14BA 16BA, 1mm, 1.5mm, 1.6mm, 2mm,2.5mm,3mm,3.5mm,4mm,6mm,8mm,10mm,12mm, 16mm,18mm,20mm,22mm,24mm , 1/8" , 5/32", 3/16" , 1/4" , 5/16" , 3/8" , 1/2" , 5/8", 3/4", 1"

Finish: Tin, Nickel, Electro polished, Buff, natural Brass, Chrome plated etc
Brass Grade: CZ-112 Naval Brass Rods(291/89) Grade CZ-113 Naval Brass Rods(291/89) Grade II Free Cutting Forging Brass CW614N CW617N CW608N JIS C 3601 (H 3250) JIS C 3604 (H 3250) JIS C 3771 (H 3250) CZ-108 Lead free Riveting Brass Rods & Wires IS 4413/81 CZ-109 Lead free Riveting Brass Rods & Wires IS 4170/67 AS - 2738.2AS - 486 - BS - 2874 (BS 249/63) Free Cutting and Forging Brass Rods DIN EN 17660 MS - 58 Brass Rods DIN EN 12164 DIN 17660
Brass Bolts Brass Hexagonal Screws Brass Bolts Brass Hexagonal Screws